Buying organizing products and supplies
Product of the Month:
Shelf Dividers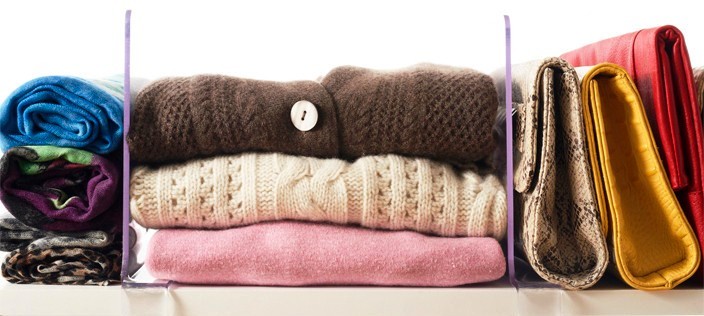 A lot of us spend time and energy organizing things on shelves, neatly stacking and grouping similar items. Everything looks great, until things start to topple into each other and your whole beautiful system breaks down. I'm here to tell you about a professional organizer's secret tool that solves that problem brilliantly.
These acrylic shelf dividers instantaneously and easily bring quick order to the chaos on any closet shelf. They create vertical cubbies, so your piles stay put, allowing all of your organizing efforts to last. I use them in your clothing closet to separate your stacks of sweaters & T-shirts or for storing handbags vertically, rather than piling them all in a heap. I use a few in the linen closet to keep stacks of sheets & pillowcase sets or tablecloths & cloth napkins sets neat. Once you discover these dividers, you won't believe how much easier it is to maintain your organization system!
These dividers are so simple to install. And I love the high quality acrylic (much better than coated wire which can feel flimsy and things can get stuck between the slats). These acrylic dividers are the best you can find; sturdy, classy and clear (so they're really unobtrusive) providing simple, elegant structure to every shelf in your home.
I will come with them and after we sorted and purged, I will install them for you in the areas needed for the low price of $14 each! Talk about organizational bliss!
Now it's easy to get your home and life under control through better organizing.
Browse through our complete line of organizing products, and turn problem spots into easy solutions with the best organizing products available today.
You can choose from a huge selection of products for your:
Kitchen
Storage
Bath
Bedroom
Laundry
Travel
Car
Garage
Office